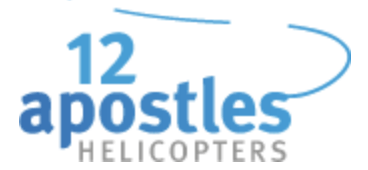 12 Apostles Helicopters
Operated by:
GLENAMPLE AIR PTY LTD
AOC/Part-135:
CASA.TAAOC.0640
informations
Time is a valuable commodity, meet us at the 12 Apostles and let us take you on a luxury flight to Melbourne in just one hour.
Forget the frustrations of congested roads and crowded buses, experience the 12 Apostles and the Great Ocean Road coast in luxury comfort and ease from the air. The perfect treat for a birthday, anniversary or a special family occasion.

Whatever your ideas, we can accommodate them.
We'll pick you up, fly to a location of your choice, and make the necessary arrangements for you to experience a day to remember.
payment
JET&CO does not warrant the accuracy, currency or completeness of AOC/Part-135 and aircraft records. It accepts no liability for any loss you may suffer as a result of using or relying on them. JET&CO makes all reasonable efforts to keep these records current.