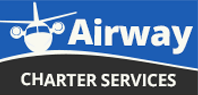 Airway Charter Services
105 Hartley Place
California,
United States
Operated by:
Jacob Stern And Sons Inc
informations
Established in 1991, Airway Charter Services is the longest-running charter operation at the Santa Barbara Airport. We have the experience to assure that your travel needs are fulfilled professionally, on time, and with the highest standards of safety
Certification
JET&CO does not warrant the accuracy, currency or completeness of AOC/Part-135 and aircraft records. It accepts no liability for any loss you may suffer as a result of using or relying on them. JET&CO makes all reasonable efforts to keep these records current.